Learning@ BenQ Qisda
Mentor Leading

After joining the Company, the workplace mentor dedicated to each colleague will integrate each partner into the environment.

On job Professional Training

In response to the job requirements, abundant internal training courses help professional colleagues in various fields to maintain their professional leadership

External Training Rewards

Encourage all employees to invest in themselves with external training directly related to their work. The full subsidy can be applied only after the training is completed.
Digital E School

The studio regularly launches self-made courses in professionalism, innovation, and growth, and includes first-hand content of technology, trends, and management.

Positive Power Lecture Hall

Positive Power Lecture Hall regularly invites accomplished people from various fields to share their Secrets of Success & Mindset

Cloud Knowledge Sharing

The internal knowledge sharing platform records the details of knowhow & organizational strategy and culture that actively shared by colleagues
---
Q Corp. University
Implement Company Vision/Mission/Strategy, Q Corp. University provides four major academy curriculums (Professional Development Academy, Innovation and Improvement Academy, Learning and Growth Academy, Leadership and Management Academy), and pairs up the training blueprint, job functional gaps and performance feedback suggestions of each department, to provide colleagues with tailor-made flexible learning systems.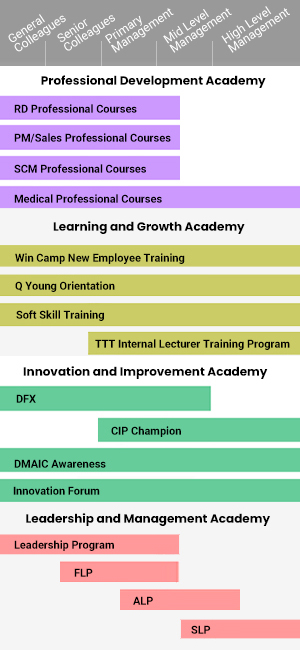 Professional Development Academy

The Professional Development Academy provides colleagues with the latest trends and technical knowledge training, to absorb professional information in all fields. In addition, a committee composed of R&D managers will regularly hold technical forums, inviting experts from all technical fields to pass on what they have learned and guide the colleagues to the top.

Learning and Growth Academy

The Learning and Growth Academy provides a variety of courses to help colleagues' self-development and make career and life smoother. In addition to the three-month cultivation and placement training, with the Group new employee training – Win Camp – you will have exclusive Mentor coaching after joining the company, and quickly become real Qisda People!

Innovation and Improvement Academy

Innovation breakthroughs & continuous improvement are one of the reasons for the success of the Qisda Group. Launched a series of high-quality courses to improve logical thinking and problem-solving ability to help colleagues achieve the projects in both quality and quantity. On the path of no best, only better, develop and push forward the organizational innovation with training.

Leadership and Management Academy

The Leadership and Management Academy creates diverse leadership courses for managers & prospective managers at all levels. Develop a complete leadership and management system, step by step from the easy to the difficult and complicated. The courses emphasize on equal emphasis on theory and practice, balanced management thinking and skills, and assists colleagues to have strategic planning ability and the mentality of to achieve personal goal and help others achieve theirs.
---
Q Talent Program (Elite Talent Program)
Q-Talent, is for every working partner who has passed the strict selection criteria to be flexibly and properly assigned to the suitable position through professional and intensive training in the form of special projects. Aiming at future managers through job-enriched training and growth.